~

The E-Blast ~
G'

m

orn'n World
Welcome to the

Sunday Edition
"Through many dangers, toils and snares,
we have already come,
'twas Grace that brought us safe thus far,


and Grace will lead us home..."
http://www.littleleaf.com/amazinggrace.htm
Judy Collins sings Amazing Grace
http://www.last.fm/music/Judy+Collins/_/Amazing+Grace
Today Is:
*Chinese Language Day: 20
Link
Easter: 20
Link

Plum Pudding Day: 20
Link

*National Pot Smokers Day: 20
Link
*Am Yisrael Chai
http://www.brownielocks.com/april.html
Peace Dove Susan writes...
This is one of my favorite pictures of JESUS. The painter of
this
picture named it "The Champion." How appropriate!
Blessed Easter to all! GOD REIGNS!
Bald eagle nest cam,
24/7 viewing



Here:
http://earthsky.org/earth/bald-eagle-nest-cam-247?utm_source=EarthSky+News&utm_campaign=1d
5542672b-EarthSky_News&utm_medium=email&utm_term=0_c643945d79-1d5542672b-393964305
If

M

y people, which are called by

M

y name, shall
humble themselves, and pray, and seek My face,
and turn from their wicked ways; then will

I hear
from heaven, and will forgive their sin, and will
heal their land.
Pastors Nationwide Deliver Easter
Message That Includes the Resurrection
as Linchpin of Christian Faith
From the orthodox to the charismatic, from small chapels to
megachurches, from brick and mortar to digital, pastors
nationwide are leading believers and seekers in Easter worship
services with the central Christian message – Jesus Christ,
God's only begotten son, died on the cross and rose on the
third day for the salvation of those who believe in Him.



More Here:


http://www.christianpost.com/news/pastors-nationwide-deliver-
easter-message-that-includes-the-resurrection-as-
linchpin-of-christian-faith-118266/


Michael Bloomberg says he has a direct

path to Heaven for his gun work
— no, really
The end of Michael Bloomberg's NY Times interview (we covered
the part where he plans to make an anti-gun NRA here) has a
very odd ending. The former NYC mayor said that if there is a
God, he's getting fast-tracked to him in the afterlife because of
his work on guns and smoking:
More Here:
http://www.theblaze.com/blog/2014/04/16/michael-bloomberg-s
ays
-he-has-a-direct-path-to-heaven-for-his-gun-work-no-really/
http://www.gocomics.com/lola/2014/04/18/#.U1DYhqK9afs
Praying Curses on God's Enemies:

What is an imprecatory prayer? It is a biblical prayer asking
God to crush a clear enemy of His, an enemy which is an
aggressive adversary of freedom and peace loving people.
READ MORE

An Email Received...
This is an awesome picture.
The gentleman who drew this is Joe Castillo.
He went to Asbury Theological Seminary.
He did this during a chapel service.
It was fascinating - he told the Gospel story -
each part of Jesus' life - and he was drawing
the story as he told the story.
The 'longer' you look at this picture, the 'more' you see.
Look at the lines the artist used to draw this picture of Christ...
It is of scenes from Christ's life.
I have not seen anything like this.
Share this with a friend or two.
In the Circle of God's love,
God's waiting to use your full potential.
May God Bless You and Yours!
Hat Tip to Robert Arvay
http://plowingthroughlife.blogspot.com/2012/04/easter-cartoons.html#.U1MhfaK9afs
Pope's Good Friday Message:
'Remember All the Abandoned People'
The plight of immigrants, the poor, the sick, the elderly,
unemployed and prisoners dominated Pope Francis' Good
Friday service at Rome's Colosseum as he led Catholics
around the world in commemorating the day Jesus died.
More Here:
http://www.newsmax.com/newswidget/Pope-Francis-Good-Friday/2014/04/18/id/566489/?promo_code=12E84
-1&utm_source=12E84Christian_post&utm_medium=nmwidget&utm_campaign=widgetphase1
http://jeffwideopen.blogspot.com/2010/04/easter-cartoons.html
It might be Easter but the world is running out
of chocolate because demand in China is
outstripping cocoa bean production

and forcing prices up


Experts are warning that a growing taste for chocolate in Asia –
particularly in China – means cocoa farmers will need more help
to provide a greater amount to export or manufacturers will be
forced to use less cocoa in their products.
More Here:
http://www.dailymail.co.uk/news/article-2608359/Choc-horror-It-Easter-world-running-
chocolate-demand-China-outstripping-cocoa-bean-production-forcing-prices-up.html
http://thelookingspoon.com/conservative-lol/117-general-humor/5522
-get-ready-for-easter-with-these-11-funny-graphics-and-memes.html
A Passover Story...
A Miracle in Baghdad
"I will cut off a man's head with a sword, and
then put him back together and make him live!"
It was midday when an elderly traveler entered
the Jewish quarter of Baghdad...
More Here:
http://tom.duregger.net/uncategorized/passover-2010/
Franklin Graham: Christians Are
Persecuted at Home and Abroad
"Christians are being attacked and ... we see it now in Europe.
Anti-Semitism, no question, it's there. We are living in a world
that is changing, and it is frightening to see how quickly [it] is
changing, and we're going to see real persecution of Christians
and Jews in the years to come," said Graham, who followed
his father into the ministry.
More Here:
http://www.newsmax.com/newswidget/Franklin-Graham-Christians-persecution-Billy-Graham/2014/04/18/id/566456/?promo
_code=12E84-1&utm_source=12E84Christian_post&utm_medium=nmwidget&utm_campaign=widgetphase1
http://thelookingspoon.com/conservative-lol/117-general-humor/5522-get-read
y-for-easter-with-these-11-funny-graphics-and-memes.html?showall=&start=6
Why World Sees Christians as Useless,
Good-for-Nothing, Irrelevant
and Naive: Part 1

Many of the unsaved in the West perceive Christians not as
mean, rude and disrespectful, but rather, as misguided, good
-for-nothing, naive and illogical. Some of the people who
deeply ...

READ MORE
Photo by Bruce O'Hara 10-13-13
Here's the Message Obama Offered
This Week to Those Celebrating
Passover, Easter
President Barack Obama used his weekly address to offer his
warm greetings to the millions celebrating Easter this Sunday,
while also recounting the Passover Seder he hosted at the
White House earlier in the week.
More Here:
http://www.theblaze.com/stories/2014/04/19/heres-the-message
-obama-offered-this-week-to-those-celebrating-passover-easter/
Barack Obama Marks Passover
With A Picture Of Himself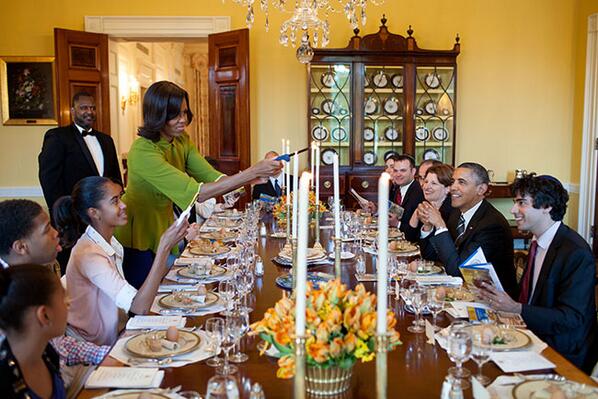 Passover, the Jewish holiday celebrating the Exodus of the
ancient Israelites from their slavery in Egypt, began at sundown
on Monday. And, like clockwork, Barack Obama's wished
everyone a 'Happy Passover' with, you guessed it,
a picture of Barack Obama.



More Here:
http://townhall.com/tipsheet/leahbarkoukis/2014/04/15/barack
-obama-marks-passover-with-a-picture-of-himself-n1825063
Here's a list of just a few other times President Obama has
celebrated or commemorated situations with photos of himself:
-The Grand Canyon's Birthday
-Anniversary of the day Rosa Parks refused to move
to the back of the bus.
- JFK Assassination anniversary
- Nelson Mandela's death
-The birthday of Obama's Chief of Staff, Denis McDonough
- 71st anniversary of Pearl Harbor attack
-Pearl Harbor Remembrance Day
-Honoring Neil Armstrong
You get the idea….
Narcissist in chief.
Christians Should Not Be Troubled by
Pagan Aspects of Easter, Say Experts

Easter is a time when Christians celebrate the resurrection of
Jesus Christ, fulfilling centuries of prophecy about the Messiah.
It is a holiday known for also featuring secular components like
Easter eggs, candy, egg hunts, and the Easter bunny. Some
of these traditions derive from pagan observances dating back to
the Roman Empire, which some find troubling.
"The early church celebrated Christian events on the same day as
pagan holidays in order to give a Christian alternative to pagan

celebrations which were often an endemic part of the culture,"
"Christians could then continue to hold these holidays, but now
with a Christian message and meaning."
More Here:
http://www.christianpost.com/news/christians-should-not-be
-troubled-by-pagan-aspects-of-easter-say-experts-118239/
http://jeffwideopen.blogspot.com/2010/04/easter-cartoons.html
Most eggstreme Easter eggs
these decorators are dye-hard!
http://www.970wfla.com/photos/photos-that-rock/m
ost-eggstreme-easter-eggs-385989#/12/22382439
http://plowingthroughlife.blogspot.com/2012/04/easter-cartoons.html#.U1MhfaK9afs
The Gosnell Movie (Hopefully)
A historic crowdfunding campaign for a movie about America's
biggest serial killer, abortionist Kermit Gosnell and the media
We funded our last film FrackNation using crowdfunding.
You Can Help Make History Here:
https://www.indiegogo.com/projects/gosnell-movie
http://bluecollarphilosophy.com/2013/05/gosnells-brutality-and-disregard
-for-human-life-makes-the-case-that-the-abortion-is-like-the-holocaust/
ABC Refers to Chelsea Clinton's
Pregnancy as American "Royal" Baby
Good Morning America host Bianna Golodryga proclaimed that
Americans now get to look forward to the birth of "their own royal,
or, rather, presidential baby."
https://www.facebook.com/photo.php?fbid=380184435455714&set=a.
229595717181254.1073741828.229591930514966&type=1&theater
A Prayer for Our Nation
Egyptian Journalist Calls For Israel
To Be Sued For Biblical Ten Plagues
When I first read this, I thought: Looks like someone has
been sampling a bit too much of the Passover wine.
Well, as serious as an irrational, Jew-hating nut job Arab
More Here:
http://tammybruce.com/2014/04/egyptian-journalist-
calls-for-israel-to-be-sued-for-biblical-ten-plagues.html
http://heartofwisdom.com/biblicalholidays/2013/03/06/passover-cartoons/
https://www.operationundergroundrailroad.org/
https://www.ourrescue.org/
https://www.facebook.com/OURrescue
http://phundify.myshopify.com/collections/frontpage/products/operation-underground-railroad
http://www.gocomics.com/lola/2014/04/19/#.U1IyWKK9afs
Rat Sharpton's Easter Message:
Celebrate Obama's Resurrection
More Here:
http://www.westernjournalism.com/sharptons-easter-message-celebrate-obamas-resu
rrection/?utm_source=wysija&utm_medium=email&utm_campaign=New+Main+Email
Peace Dove Susan Writes...
A movie currently being shown across the nation is entitled "God's
Not Dead." That is so true! God's not dead; He's surely alive!
This is a powerful movie and growing in acclaim. I saw the movie
and thoroughly enjoyed it. It held my attention from beginning
to end. The movie was expected to bring in about two million dollars.
However, it has brought in forty million dollars so far. Good for them!
If we want more Christian movies produced and viewed in theaters,
then we need to support godly productions such as this one.
Research to see if this movie is at a theater in your area. Check this
out before the doors close -- or plan to buy a DVD in the near future.
Check this site for locations:
Here:
http://godsnotdeadthemovie.com/theaters
Have a blessed Easter! GOD REIGNS!
"Posterity: you will never know how much it has
cost my generation to preserve your freedom.
I hope you will make good use of it."
~ John Quincy Adams ~
http://www.westernjournalism.com/untaxed-easter/


http://www.shilohpup-nwc.com/2011_04_01_archive.html
Voice of the Copts, a nonprofit organization, fights
the spread of Islamic supremacy and Sharia
throughout the Western world through education,
advocacy and action. By drawing attention to the
suffering of Coptic Christians in Egypt, it endeavors
to educate the Western world as to the chilling
effect of Sharia (Islamic law).

http://www.voiceofthecopts.org/
http://darkangelpolitics.blogspot.com/2013/1
2/obama-irs-shuts-down-catholic-charity.html
The Islamist's have stated, "First the Saturday
people, then the Sunday people." A reference
to the Sabbath days of Jews and Christians.
Sadly, in many muslim countries, the Saturday
people have all been expelled or
violently
eliminated. It is now the Sunday people's time
to be erased...
Voice of the Persecuted
http://voiceofthepersecuted.wordpress.com/
What is Barnabas Aid?
Barnabas aid is an international, interdenominational Christian
aid agency. The mission of the Barnabas Aid is to support
Christians where they are in a minority and suffer discrimination,
oppression and persecution as a consequence of their faith.
~ Scriptures with Sharon
~
Death could not keep Him in the grave!!
Matthew 28: 1-7
After the Sabbath, at dawn on the first day of the week,
Mary Magdalene and the other Mary went to look
at the tomb.

There was a violent earthquake, for an angel of the Lord
came down from heaven and, going to the tomb,
rolled back the stone and sat on it.
His appearance was like lightning, and
his clothes were white as snow.

The guards were so afraid of him that they shook
and became like dead men.
The angel said to the women,
"Do not be afraid, for I know that you are looking
for Jesus,who was crucified.
He is not here, He has risen, just as He said.

Come and see the place where He lay.
Then go quickly and tell His disciples: He has risen
from the dead and is going ahead of you into Galilee.
There you will see him.
Now, I have told you."
Matthew 28: 16-20
Then the eleven disciples went to Galilee, to the
mountain where Jesus had told them to go.
When they saw him, they worshiped him;
but some doubted.

Then Jesus came to them and said,
"All authority in heaven and on earth
has been given to Me.

Therefore go and make disciples of all nations,
baptizing them in the name of the Father
and of the Son and of the Holy Spirit,
and teaching them to obey everything I have
commanded you.

And surely I am with you always,
to the very end of the age."
HE'S ALIVE!!!

***
Wishing you and yours
a Blessed and Happy
Resurrection Day..
***
~ Scriptures with Sharon ~
http://baloo-baloosnon-politicalcartoonblog.
blogspot.com/2012_08_01_archive.html
Have a Great Day,
And...
"To sin by silence,


w

hen they should p

rotest,
m

akes cowards of men."

~ Abraham Lincoln ~
Contact Congress:
House of Reps Directory
Senate Members Directory
~

The E-Blast

~



Created by Bruce O'Hara
can also be viewed online


at:
http://e-blast.blogspot.com/
Contact me if you prefer not to be on

~

The E-Blast

~


mail out list.

On the other hand, if you're not on the
list and want to be, well then, you should contact me
also :-)

At:
eblast79@gmail.com
If you pass this on, please remove any forwarded
email addresses showing when you received it,
and use "Bcc" instead of "To", to thwart spammers.
I use search engines to find cartoons and images

to compliment the articles that I post. I've never,
often, been to many of the sites, and use of their
images does not constitute endorsement of the
site by me. However, I feel it only fair to post their
link with the image in attribution.
BlogRoll
The Bold Pursuit
http://www.theboldpursuit.com/
Zilla of the Resistance
http://marezilla.com/
Fundamental Refounding
http://fundamentalrefounding.ning.com/
Harford Computer Services
(For Md Residents)
https://plus.google.com/u/0/+Harcopc1/posts

Tammy Bruce
http://tammybruce.com/
AchilesPortfolio
http://achillesportfolio.wordpress.com/category/cartoon/
The Conservative Wife
http://theconservativewife.blogspot.com/
Sultan Knish
http://sultanknish.blogspot.com/
Conservative Cartoons Daily
http://www.facebook.com/ConservativeCartoonsDaily
Hope n' Change
/
http://hopenchangecartoons.blogspot.com/
The Looking Spoon
https://www.facebook.com/thelookingspoon.fans
Twisted Sifter
http://twistedsifter.com/category/picture-of-the-day/
The Last Refuge
http://theconservativetreehouse.com/
Jammie Wearing Fools
http://www.jammiewf.com/
Weasel Zippers
http://weaselzippers.us/
Le'gal In'sur'rec'tion
http://legalinsurrection.com/
The Lonely Conservative
http://lonelyconservative.com/
Fine Political Items
http://stores.ebay.com/Fine-Political-Items
The Peop
les Cube
http://thepeoplescube.com/
Atlas Shrugs
http://atlasshrugs2000.typepad.com/atlas_shrugs/
A Time For Choosing
http://thespeechatimeforchoosing.wordpress.com/
Soopermexican
http://www.soopermexican.com/
Nice Deb
http://nicedeb.wordpress.com/
Ex-Army - Libertarian Nationalist
http://ex-army.blogspot.com/
"In a time of universal deceit, telling
the truth becomes an act of rebellion."
~ George Orwell

~
"Truth isn't mean. It's truth."
~ Andrew Breitbart ~
(1969-2012)
"God loves Prodigals and Patriots."
~ Bruce O'Hara ~